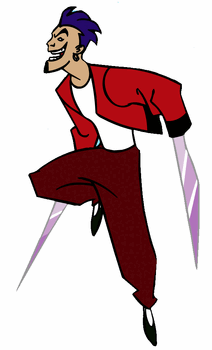 A member of the Ebon / Talontrio , (a.k.a. 'the Metabreed') Shiv is able to form objects of solid light/energy out of his hands, transforming his hands into deadly weapons. These objects become sharpened and metallic and are especially dangerous when used in close range.
For the most part, Shiv is the jokester of the group, which often ends with him going out first in a fight. He is a big fan of the Joker.
Community content is available under
CC-BY-SA
unless otherwise noted.