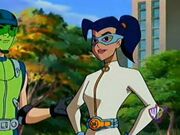 A Bang Baby with the ability to warp time, allowing her to travel into the past; during her time with her abilities, she was one of the strongest and most powerful metahumans on the planet. While looking for Static and Gear , she bumped into Ebon . He wanted to use her powers to avoid the cops. After being saved from Ebon, Gear ran tests on her and found out that she had no control over her powers. Since she wanted to become a hero, Gear made a remote that was linked to a belt around her costume. The remote helped her control her powers. Now named as the superhero Time-Zone, Nina became the third member of the Shock Pack, but her time as a member was brief: Due to an encounter with Ebon, Nina decided that her powers were too dangerous to keep, and went back in time to stop her past self from being present at the night of the Big Bang  (by stealing her own bike, according to Richie. Nina is now a happy, ordinary girl, and has no memory of her life in the original timeline as Time-Zone.
Community content is available under
CC-BY-SA
unless otherwise noted.